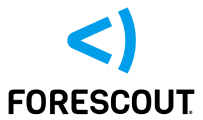 Forescout
Why Forescout?
Forescout is quite a unique tool. No other product gives you so much information on a single screen:
who is connected to which equipment,

where that equipment sits,
what software is installed or running,
what peripherals are connected,
what ports are open.
This visibility is in real time. It covers a vast range of equipment. Forescout is an independent company with no special agreements with any particular manufacturer.
But Forescout goes further. It provides automated controls. It is thus possible to change the VLAN of a problematic device to reconfigure a firewall or a switch port depending on a user AD group or a security problem on a device.
It can also control other security equipment and become the orchestra conductor. Data is exchanged in both directions to enrich third-party products and enable them to benefit from Forescout's response capabilities.
Forescout is also a traditional NAC, with or without 802.1x, or a mix of both approaches, depending on the customer's needs.
The return on investment is always swift. The visibility it provides and the finesse of its connection controls are unrivaled.
Our Forescout expertise
Nellsoft was the first French reseller to achieve FSCE certification. With over ten years of experience working with customers in France and abroad, Nellsoft will optimize your investment and help you make the most of this technology.